CONTINUOUS

CHALLENGE AND INNOVATION

We are growing into a new future industry leader through ceaseless endeavor and technological innovation
---
MCNEX is leading technology to respond to the future change with innovation through continuous research and technological development.

MCNEX is establishing an ethical corporate culture through transparent management and continuous innovation and is actively practicing ethical management for the sake of growing together with all stakeholders by engaging in honest, fair, and reasonable business activities.
We aim to turn the fruits of our imagination into reality and become a company that takes the lead in future value by growing into a new future industry leader based on sustainable growth attained through ceaseless R&D and investment, at the same time creating mutual value with all stakeholders and sharing profits, through the highest level of product quality and technological innovation as well as passionate endeavor.
MCNEX
Dec. 22 2004
Min Dong-uk
4,200 People
mcnex CES2023 Brand
세계 최대 규모의 전자·IT CES전시회에 2015년 부터 참가를 시작하여 CES2023까지 9년 연속 단독부스를 마련하여 참가하고 있습니다.
---
GROWTH STATUS
"Maintaining continuous growth every year" – Annual average growth rate (CAGR) 38.44% (2005 to 2018)
INSPIRE THE WORLD CREATE
THE FUTURE
---
BUSINESS DIVISION
---
MAJOR CUSTOMERS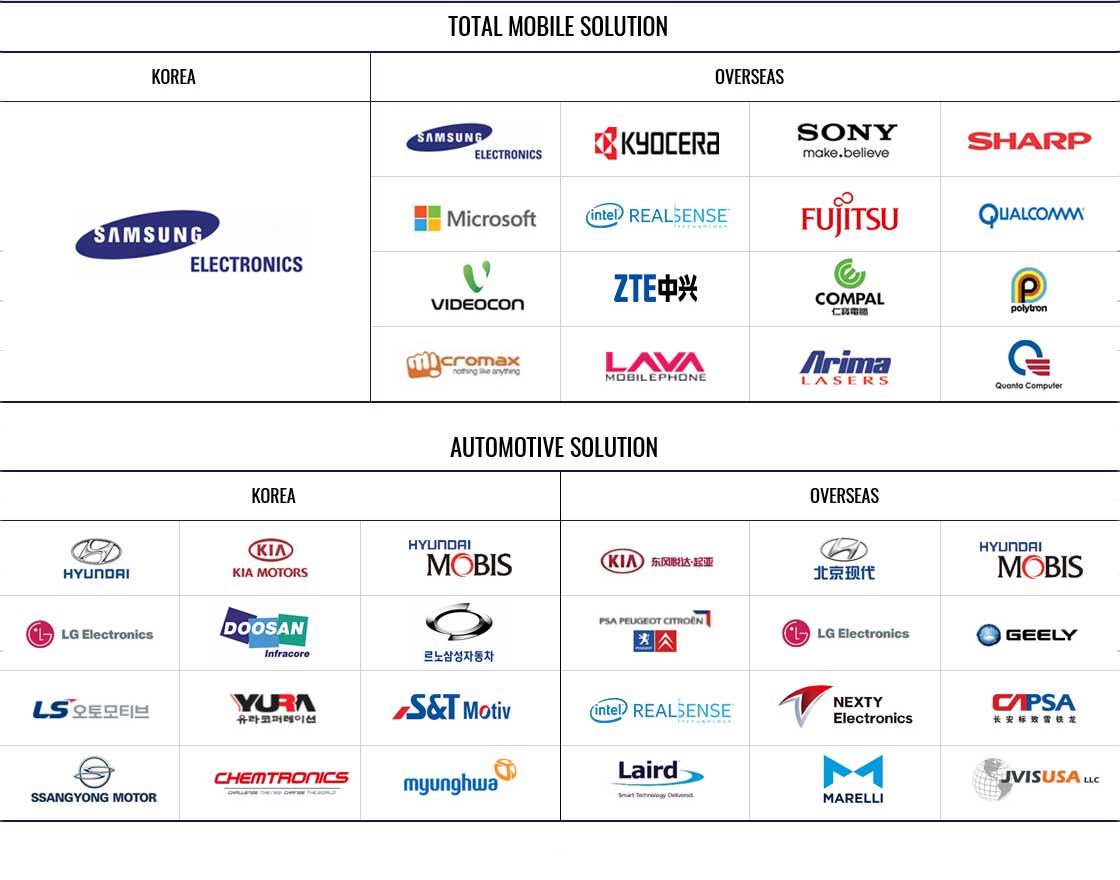 ---
R&D CENTER
By securing outstanding research personnel in different fields,
constant new model development and technological research are accomplished.
Image overlay
technology
Image optimization
technology
AF actuator
technology
Instrument structure
and optical design
Embedded H/W
technology
Algorithm S/W
technology
TOTAL SOLUTION
From H/W to S/W, we provide total solution through the in-house development
capability of core technology.
Ceaseless quality management for the sake of customer satisfaction

Customer satisfaction is the highest value that MCNEX aims toward. We are engaging in continuous R&D as well as innovation for a higher dimension of customer satisfaction, based on synergy produced by the best technological process and talent, experience and know-how.

We promise to provide the most innovative and stable solutions in any situation, at any time, as we handle changes in technology and markets, staying one step ahead, and we will create future value through MCNEX's passion for innovation and continuous endeavor.

Going beyond satisfaction, by instilling true favorable impression to customers, we hope to enjoy our innovation with customers.
Securement of a differentiated competitive power through R&D

MCNEX believes that ceaseless strengthening of technological competitiveness ensures sustainable growth and development.

We are advancing forward to lead the camera module market by quickly responding to technological and market changes, based on total imaging solutions that seek the best quality and efficiency along with accurate and quick decision making systems as well as continuous technological development maximizing future value.

We will continue endeavoring to present to you, our customers, a more innovative and convenient future with our technological powers achieved through continuous R&D.