MCNEX realizes LV3 autonomous driving with Tri-Focal camera sensing system at CES 2021
---
MCNEX, a company specializing in camera module for ADAS and autonomous driving, unveiled a system that implements autonomous driving through video sensing like Tesla's autopilot technology at CES 2021, which was held online from the 12th, Jan 2021.
The front Tri-Focal camera sensing system, unveiled by MCNEX at CES 2021, is a self-driving core system that recognizes front and side objects and has been developed through seven years of research and development and implements level 3 autonomous driving.
MCNEX's Tri-Focal camera system is a core key of autonomous driving system that applies three cameras with a 30/60/120 degree angle to increase object recognition rate at 10M-150M using in a similar way to Tesla's self-driving system.
In particular, by applying AI algorithm software, Tri-focal camera system enables drivers to response in real-time to the surrounding environments including day, night, bad weather and unexpected situations. As a result, it has increase stability of autonomous driving.
In addition to that, MXNEX is currently putting so much effort on developing of dual-type 8M grade high-pixel camera system, a next generation autonomous camera system, based on Tri-Focal camera technology.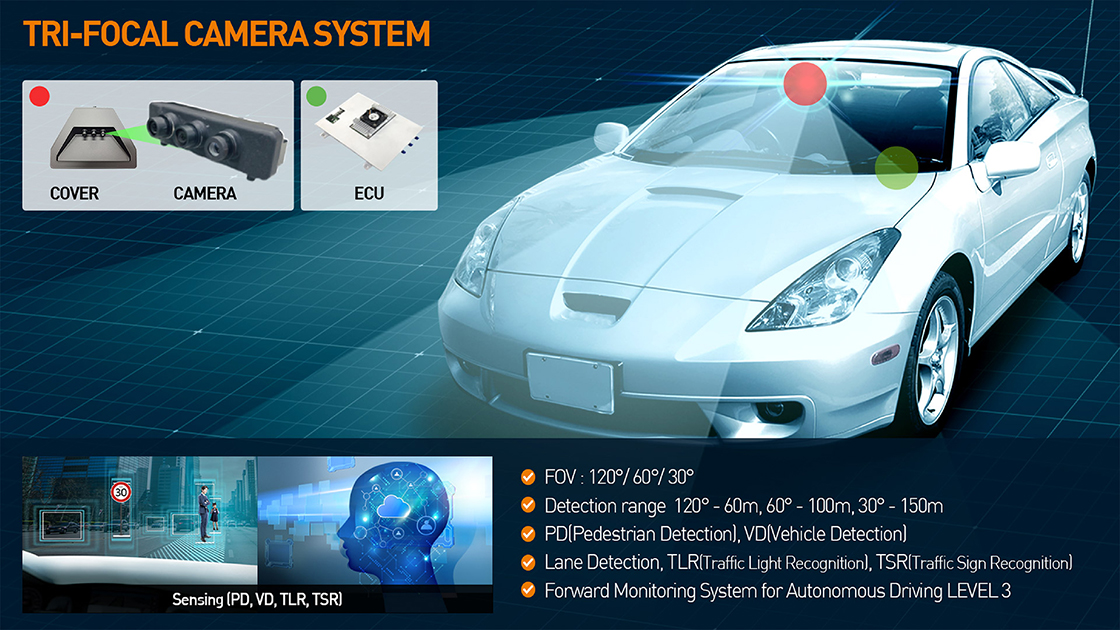 Dual-type camera is the system that reduce the cost by implementing various forward sensing requirements for autonomous driving with two cameras, and in the same time, it provides 4x higher resolution than conventional Tri-Focal camera system with higher recognition rate of short and long distance object.
On the other hand, MCNEX has been recognized as they have succeeded in commercialization of 7.4M grade (AA type) high-pixel camera that must be applied on autonomous driving system. MCNEX is currently accelerating development on next-generation autonomous driving system with Israel company specialized in autonomous driving system.
- Autonomous Driving Camera System -
CES2021 ㅡMCNEX Products Download