MCNEX unveils front prism dual sensing ADAS camera system at CES 2021
---
MCNEX unveiled a forward-facing prism dual sensing ADAS camera system that improves and increasing completion of autonomous driving on intersection area that developed with Corephotonics, a company specialized in multi-camera solution at CES 2021.
Corephotonics, which developed prismatic dual sensing camera system with MCNEX, is a both hardware and software company specialized in mobile multi-camera with source technology of prismatic folded zoom was acquired by SAMSUNG Electronics in 2019.
Prismatic dual sensing camera system that was unveiled recently is composed with MCNEX's 7.4M grade camera and all-in-one actuator that applied Corephotonics' prism technology.
When driving, one of the camera monitors 120 degrees ahead at all times and if vehicles or pedestrians are detected it sends a signal to other camera that has 15 degree angle to those detected object to recognize and it sends an video to control unit to improve completion of autonomous driving.
With current fixed camera on the windshield, it has difficulties to recognize the lateral object. MCNEX's dual sensing camera, however, has feature that safely control the car by increasing recognition rate of objects that are located in long-distance curves(more than 250meters) and intersection.
Prismatic dual sensing camera system for ADAS MCNEX unveiled at CES 2021 was passed the reliability test including field test. As a result, MCNEC is getting lots of love calls from finished car manufacturer.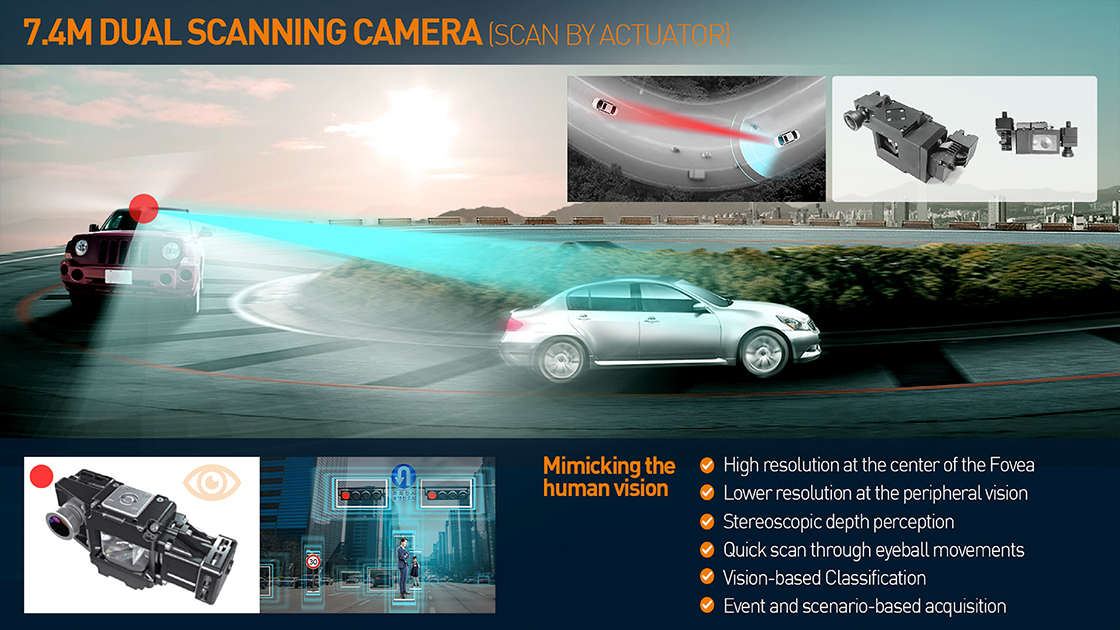 - Autonomous Driving Camera System -
CES2021 ㅡMCNEX Products Download